I had a really nice Sunday. Got up early in hopes of catching an early showing of Scott Pilgrim vs. The World with Dr. Girlfriend and checking out the abandoned L.A. Zoo. The bigger theatres' showtimes didn't fit our schedule so we decided to try a one we hadn't been to. We found a nice "old-school" style theatre that was only 10 min. from the house and had a $9 ticket price, which sounded like a winner. Upon entering the building I immediately felt nostalgic. It wasn't modern or full of frills, but it also wasn't crowded or overpriced – two things that have kept me from going to the movies more often. The place reminded me of somewhere I would have seen Rocky Horror in High School or maybe the theatre I saw Ghostbusters in as a kid. Eh, my brain wanders…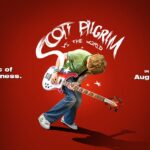 Anyway, I really enjoyed the film, so did Dreya. It was nice to see a movie that was genuinely fun, entertaining and geeky while also also being good date night material. I loved the visual FX, and I found the endless parade of stereotypical ex-douches hilarious, especially since I'm sure everyone can relate to having to battling someone similar at some point.
Afterward we headed up to the abandoned L.A. Zoo to snap some photos. I've been wanting to shoot up here for a while, but I'd never scouted it out. Dreya and I ran into some people having a birthday picnic by these manmade "caves" and they were kind enough to share some beers with us. We chatted for a while then decided to continue exploring before we lost too much light. We wandered through the cages, snapping a few photos here and there. I have to admit I'm impressed with how genuinely creepy it is to crawl around through the passageways and narrow stone stairs connecting the cages. There's a lot of potential for shooting there. I'm posting what I have, but I'll definitely have to go back and shoot some more reference stuff when there's more light.
Afterward, I cooked up some shockingly affordable New York Strip steaks in the cast iron skillet I got a few months ago. I swear, that little chunk of iron has made such a difference in taste, well worth the $20  investment. I've really learned to love cooking, funny considering how absolutely inept I was at it a year ago. Dreya cooked up this incredible wild mushroom stuffed um… pasta of some sort. I forget the name, but it was mindblowingly good, and the people who invented it should have statues erected in their places of birth.
So yeah, good movie, good times with the girl exploring creepy old animal cages and a good dinner… Couldn't ask for more.
-J