I've been redecorating the cave bit by bit and being… well far-from-wealthy, I'm always looking f0r ways to up the production value of my surroundings without breaking the bank. One way you can do this is by adding a brass element to plastic or other materials like the frames and candle sconces below. All for under 5 bucks and a few hours of your time.
The key to this is a tube of "Antique Gold" Rub n' Buff (which yes, I know, sounds like either a sex act or a lubricant.) I picked some up at the local craft store to use on another project, the mount for the Buttonface Mask. It's metallic creme that you can rub onto a service and buff to give it the appearance of metal. Once I worked with it I was so impressed with it's qualities I immediately started thinking about other materials I could use it on.
Enter the picture frame below: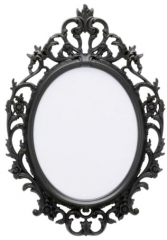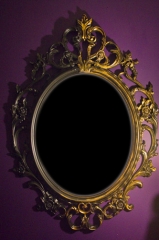 I picked this up and was pretty excited to try out turning this brand new, lightweight plastic frame into an ornate "brass" antique. I tested the creme out on a spot on the back of the frame and it took to the material beautifully. I was ready to begin. I wanted this too look realistic, because it certainly turn out cheesy if it didn't. To achieve a realistic look, I needed it to seem like the frame had tarnished over time, darkening some of it's surfaces and turning the recesses black. Normally I would start out by painting the entire item black, but as the frame was black plastic to begin with, I was able to skip this step.
Now to apply the Rub n' Buff – I used my hands to apply the creme to the frame by spreading a thin layer over my finger and then running it over the surface of the frame, taking care not to apply too much, otherwise I'd lose the antique feel. Remember, you can always apply more if you need to, but it's a pain to try and remove it once you've applied too much. Keep a rag nearby to wipe off excess and buff the area.
The important part here is to make it look like it's the tarnish that's wearing away, revealing the brass. This might seem difficult because we're applying brass OVER the black, but it's really pretty simple. If this were a real antique, the raised areas of the item would be the most likely to be worn or polished and therefore would have the most brass like, least tarnished appearance. So make sure the high points get the most of the metallic creme (a little goes a long way) and gradually lessen the amount as it nears creases, nooks and crannies. This stuff is called rub n buff, so don't be afraid to get in there and work with it. You can get a pretty natural looking gradient by rubbing it in with your fingers.
With a little practice it wasn't difficult to get the hang of it and I have to say, I really like the results.
A week later, as luck would have it, Dr. Girlfriend and I found this pair of plastic/glass candle sconces with a matching mirror for cheap at a yard sale. I was a little resistant to getting them, but they were $10 bucks and I thought I could work with them so we picked them up. I'm glad we did – they're turning out nicely as well.
So there you go, a cheap way to turn plastic into brass and add some affordable antique-looking goodness to your house.
-J