Hey weirdos, lately I've been inspired by artists who post breakdowns of their concepts & inspirations so I decided to post one for my new work. Warning – its loooong.
     The most recent set with Adriana Chechik is the first entry in my "Lady Killer" series, a morbid beauty concept. The goal for this project is to combine beautiful subjects with murderous themes and archetypes drawn from history, urban legends and pop culture to create alluringly macabre visuals; often with the subject appearing deceased.
     A little dark I know, but I always preferred the gory Grimm's Fairy Tales over the Disney ones. Or E.C. comics over both. I'm a massive fan of horror in just about all it's forms so I love to create images that invoke the genre. Here are some of my inspirations from different mediums, including music, paintings and film:
Influences –

"Murder Ballads are a sub-genre of the traditional ballad form, the lyrics of which form a narrative describing the events of a murder, often including the lead-up and/or aftermath".

     I referred to this series as my take on visual "Murder Ballads". These songs make up a good portion of traditional ballads but if you want a good intro to a modern take on them, try the Nick Cave album of the same name.
     Cave's duets with PJ Harvey on "Henry Lee" and Kylie Minogue on "Where the Wild Roses Grow", beautifully blend romance with horror. Great music to work to and the video lent some visual inspiration as well, with it's dreamlike depiction of Minogue as "Eliza Day".
Some of my favorite paintings could be classified as "Dark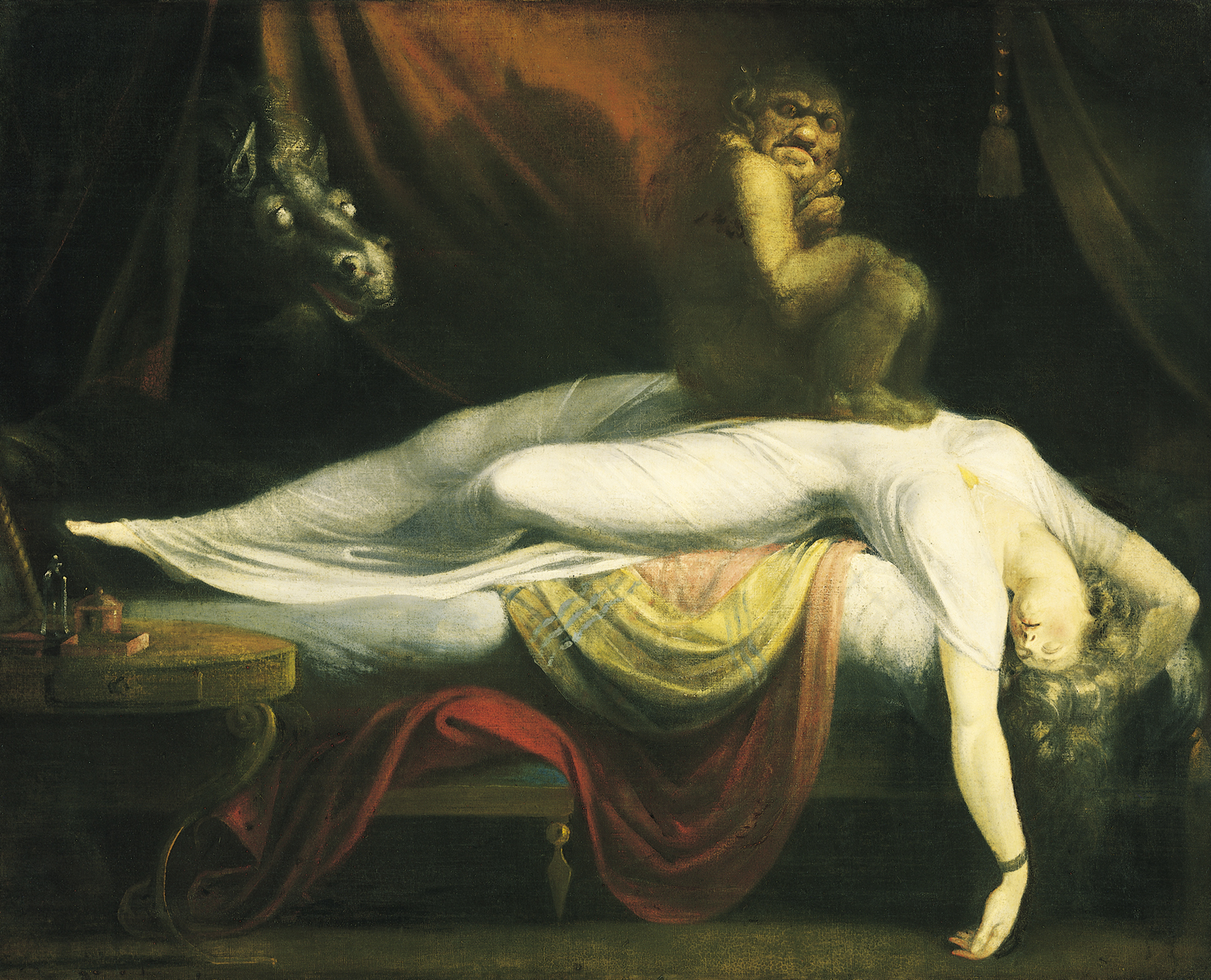 Romanticism". Artists who created work in this vein, such as Henry Fuseli and Antoine Wiertz or Franz von Stuck used  dark or supernatural, sometimes gory themes combined with beauty of the female form (and the aesthetic inherent to the medium itself) to create images that are stunning and creep me out at the same time.
I suppose that's something my favorite horror artists in various mediums have always done, including modern horror films. I love that these painters were able to convey a horror story in a single frame, that's something I aspire to.
Many of these paintings, Nachtmahr in particular, influenced the dead, limp poses in some of the shots. I also love the heavy shadows these artists used, their subjects or scenes falling off into darkness in particular Fuseli and Stuck. It reminds me of something an instructor taught me, that lighting is: "not about adding 'unnecessary light', but learning to take it away". Something that's informed my more shadow-y work lately. (Still trying to get the balance right.)
The use of billowing materials surrounding the subjects of many "reclining nude" paintings was also influential and I thought a perfect horror analog for the classic velvet and silk would be plastic and burlap. I used basic thin plastic painting dropcloths and tried to create a lot of folds and layering. I did use more velvet for the "Blue" set to give a softer feel.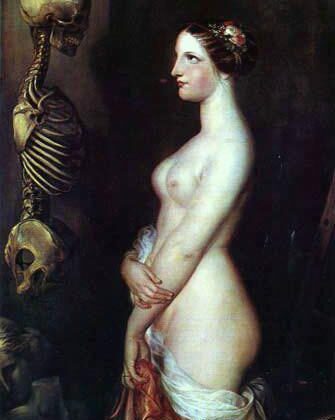 The Look –

I had several inspirations for the looks used in these sets. There's something visually stunning to me, haunting about a pale ghostly figure that still somehow maintains beauty.
It's a very effective look – as seen in the 'Last Dance with Mary Jane' video, 'Death Becomes Her', Korn's A.D.I.D.A.S. video, etc.  Here are a few examples of what I pulled together for this series' mood board.
• Beetlejuice – Miss Argentina from Beetlejuice! Sassy and sexy suicide victim in a kid's movie?!
I thought it was cool that such a dark idea could be done so comedically and with such a brilliant color palette.
• Death Becomes Her – Goldie Hawn looks awesome undead in this Morbid-as-hell comedy about vanity and the difficulty in looking good after death.

Mood Board Samples

Click to Enlarge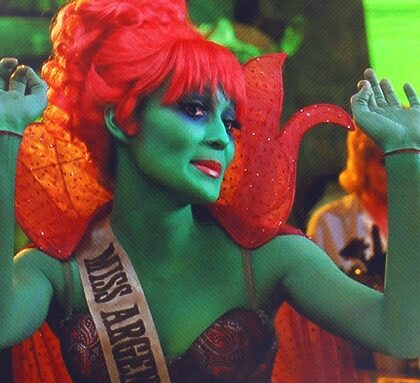 • The Cell – The FX artist's work on the "Bleach Victim" and the light-eyed look shared with Goldie Hawn's character above are piercing and effective. Love this look.
• Twin Peaks: Laura Palmer – Laura Palmer wrapped in plastic became an iconic image in pop-cult-culture and color palette influenced the "Blue" set.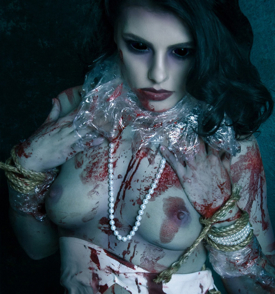 The Fashion Component –
Fashion photography is another influence. The "1,000 yard stare", off axis with the camera that works so well for fashion, also fit beautifully with this set. When I was thinking about the wardrobe for the "Red" set, I also decided I wanted to have a *"Gore Couture" element.
Basically, I thought it would be interesting to re-purpose the typical movie-murder-victim elements, the plastic wrap, tape and twine, into "accessories" so-to-speak, as though this was a demented serial killer's fashion shoot.

*Just a phrase, no relation intended to the "Gore Couture" line of clothing
We wrapped everything around Adriana's wrists and neck like bindings, then cut and flared them out in a way reminiscent of the flamboyant cuffs and collars I see in alt fashion currently.
The Model –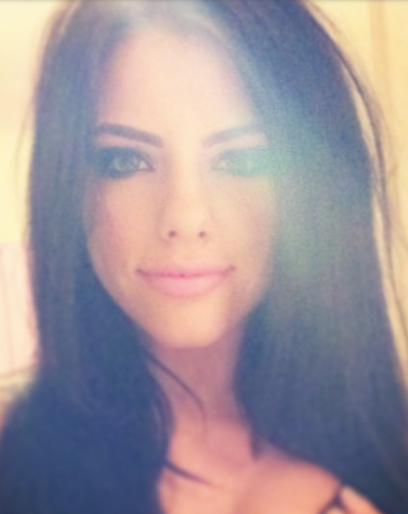 I knew it would take an open-minded and adventurous subject to pull this off. I met Adriana while shooting another project and we got along well, so I approached her about shooting for this series. Far from being scared off, she loved the idea so we worked out the details and set up a shoot.
The girl is fearless, and beyond that, was creative and enthusiastic throughout the shoot, so it was fantastic working with her. We quickly found that sometimes it's harder than it seems to nail a "dead" look without looking cartoony, but it just required a little practice.
It took us some time, but she did a wonderful job working with me to get the poses and the right amount of expression (or lack thereof) until I was happy with the results. I appreciated Adriana's positive attitude because it allowed me the time to really study the things about this shoot that would be applicable to other entries in this series and future work general, without feeling rushed.
Red and Blue –

This shoot was split into two sets – "Red" and "Blue" because I wanted to represent 2 sides of this victim archetype. One being the softer, "Last Dance with Mary Jane", velvety imagery, with no blood and the other -a more modern, graphic, plastic-and-blood-splattered visual. Similar to a "Dexter" set.
This decision arose from a few factors – mostly that Adriana and I wanted to do to multiple looks, but we needed to find a way to make this work in our time frame, which only allowed for the the same makeup and hair.
 I thought it would be interesting to choose images that were clearly related, but presented a dichotomy.  We were able to accomplish this by using different accessories, contrasting wardrobe colors and of course, a shitload of blood.
Adriana happened to bring along a pair of black contacts, so we decided to use those in the "Red" set to further contrast from the icy blue eyes in the first set. The blood added another color to the palette that really helped differentiate the two, hence the names.
So there you go – a little behind the scenes for this series.  (Next time I'll try to shoot some actual behind the scenes images.) Anyway, we had a great team and a helluva lot of fun on this shoot and no models were harmed in the making of this set.
Thanks for reading,
-Mister J.
A Quick Word About Subject Matter – I shouldn't have to say this but…
For clarification, this is all make-believe. Like Dracula, Halloween or Battle Royale it's just creepy, brutal, fun. I'm exploring and dissecting themes I'm fascinated by, and I'm generally fascinated by the darker side of life. This isn't about advocating violence against women or making light of murder, it's about expressing my love of horror in my medium.